Welcome to NAMA Modular Plaster Products
Our Vision is to improve living spaces using contemporary plaster products.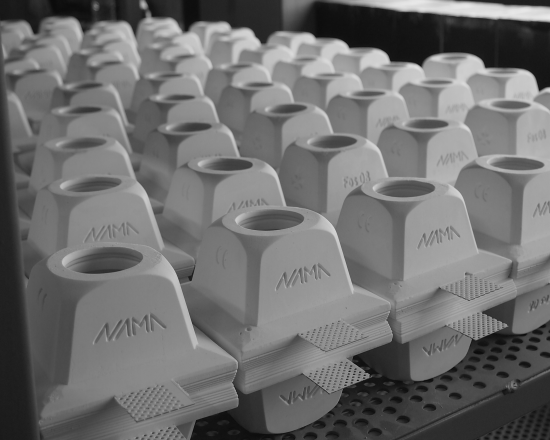 MISSION
Our mission is to explore the limits of plaster object design.
The flexibility and versatility of plaster allows our designers to create objects that are functional and will last in time.
We constantly improve the new objects' design in order to ensure the highest quality of the final products.
VISION
Our Vision is to improve living spaces using contemporary plaster products.
Plaster is a natural material that has been used for classic decorations since time immemorial.
We are about to change this notion… In NAMA we are trying to discover new contemporary uses and applications for plaster, so that it meets functional uses as well, such as the creation of plaster lighting fixtures.
Additionally, we design contemporary modular surfaces that can transform any space and re-establish plaster decoration.
PASSION
Our parent company A. Grapsas S.A. has been specialized in both the production and construction of plaster products all over the world since 1974.
We value this experience and use all the knowledge we have acquired over these years to produce contemporary quality plaster products.
Our company is equipped with the latest technology machines and materials in order to control the quality of the final product in every stage of the production line.
All of our products are tested and certified with the CE marking that guarantees their compliance with European regulations, particularly with the Low Voltage Directive.
SUSTAINABILITY
2CaSO4 + 4 H2O + heat → 2CaSO4 . ½ H2O + 3H2O
Plaster is made from 100% mineral gypsum with water and it is well known for its ability to regulate hygrometric conditions in a room.
Plaster absorbs and releases moisture depending on the dryness of the area.
It is also a fireproof and sound absorbing material as well as 100% recyclable.
Low temperature cooking (150-350oC) is required for gypsum production and, as a result, minimal amount of CO 2 is emitted in the environment.
The materials used are of an Alpha Gypsum high quality and hardness special composition.